Efficient. EMAT Field Auditor allows you to conduct energy audits of commercial and residential buildings as quickly, easily and efficiently as possible. If you're an energy auditor, you know how important it is to get in and out of a building as quickly as possible with all the information you need, so you can spend your time on your project or audit report instead of walking through buildings. EMAT Field Auditor is designed to help you do exactly that.
Swipe and tap your way through a building. With EMAT Field Auditor, you can quickly swipe and tap your way through a building, efficiently and smoothly taking photos and capturing data as you go. While you're doing that, Field Auditor is sending your data to the cloud, organizing it, and preparing it for review and export to your analysis and reporting systems.
Conduct different types of audits? ASHRAE Level I, Level II, lighting, commercial, residential, equipment specific? No problem. With Field Auditor, you can create custom data fields and an unlimited number of customized templates for all the audit types you need.
Using Field Auditor is easy. You can set up your client, installation, building and areas back at the office, or right at the site. Select your audit template, and get right to work. EMAT is already set up to capture data on lighting, HVAC systems, building envelope and more. But again, you can customize it with any additional fields you need. As you go through the building, photos are automatically tagged to the area or equipment and those relationships are preserved, saving you tons of time when you're back at the office. And because the data you collect is synched to the cloud as you go, associates and other team members can review the data as you go, from wherever they are, helping to ensure that you never have to go back to a site to get missed data.
Real-world, knowledgeable support. Need some help with Field Auditor while you're out in the field or back at the office? Again, no problem. EMAT Field Auditor is backed by a team of energy engineers and auditors. So when you call us, you'll be talking to someone who does what you do, can understand and relate, and can solve your problem.
EMAT Field Auditor
features
Use on Any Device
Tablets & Phones
iOS, Android & Windows
No WiFi Needed
No pre-audit setup or prep required
Start a new audit in the field
Supports multiple auditors at once
No internet access required
Customizable Audit Templates
Design your own audit templates
Choose / edit existing templates
Fully customizable
Commercial, Industrial, Residential
Photo Management
Use native camera functions
Camera-leading audit option
Photo tagging for equipment, area, name plate, etc.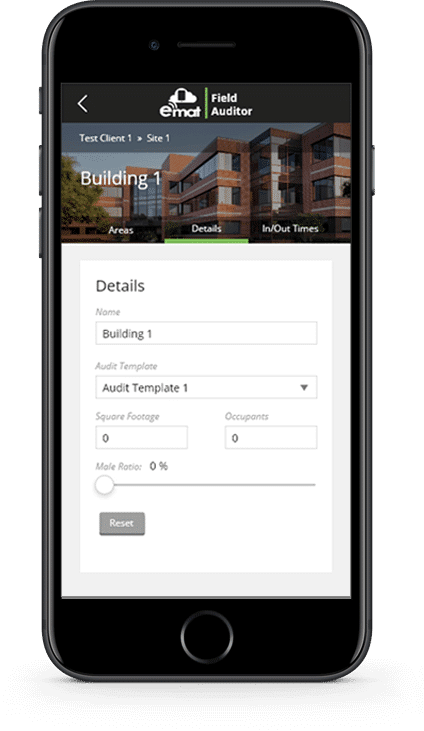 Energy Auditing Software Made for: