Energy Auditing Software for Office Spaces
Determining how much energy your office space is using – and how much it's wasting – can be a tricky feat. You've likely got lots of smaller spaces within your main building, including individual offices, breakrooms, meeting rooms, and bathrooms. And how do all those cubicles and computers impact your energy usage?
With EMAT Field Auditor, you can get clear answers on where you can tighten up your energy usage, decreasing your bills and lessening your building's impact on the environment.
Here's what EMAT Field Auditor – your energy auditing software for office spaces – can do for your building: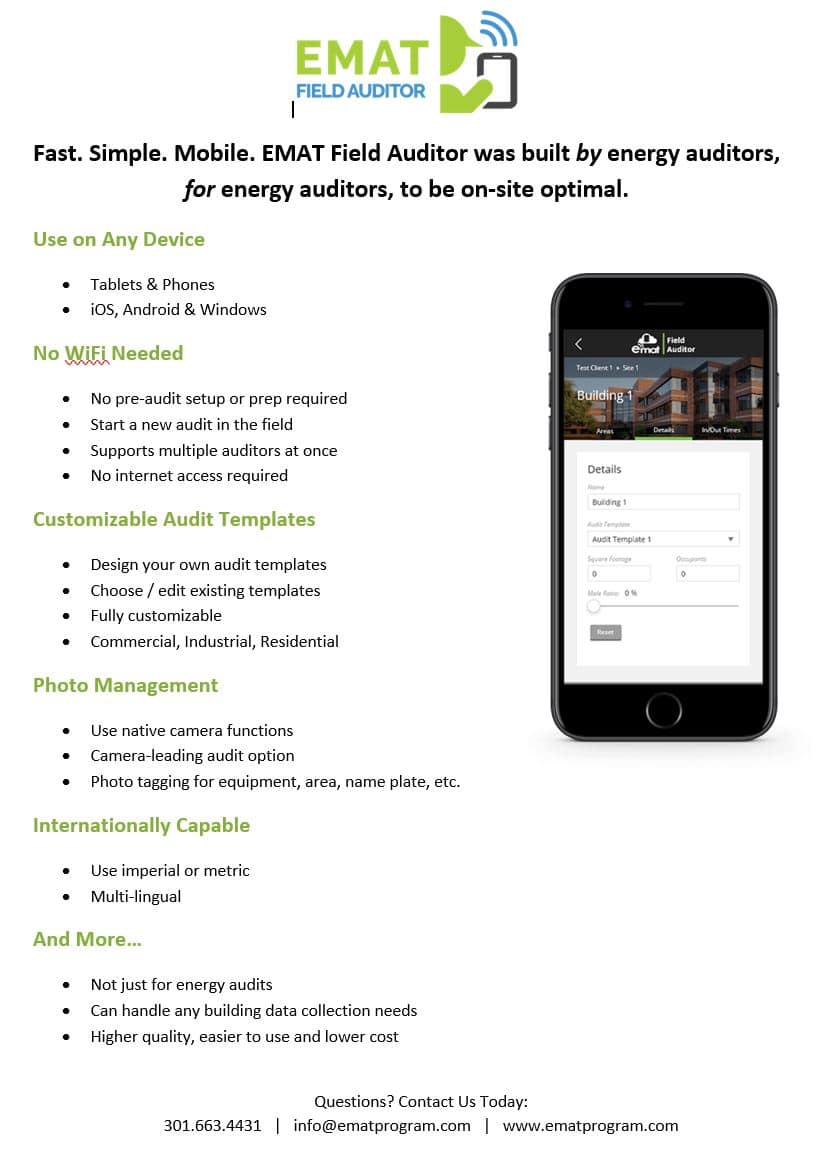 Efficient energy audits: Our cloud-based software platform collects data, photos, and more while you're in the field, saving you the time of interpreting handwritten notes. This allows you to more quickly conduct your audit and produce actionable results.
Swipe and tap your way through a building: Swipe and tap in the app as you move through the building and gather data. While you're working, Field Auditor sends your data to the cloud, organizes it, and prepares it for you to review and export when you're finished.
Conduct multiple audit types: Whether you're sticking with ASHRAE Level I audits across all your spaces or you want something more specialized, Field Auditor can help you create custom data fields and unlimited customized templates for any audit you need.
Easy to set up: You don't need to be an expert energy auditor to use Field Auditor. Just select the audit template that fits your needs and get to work, or customize our templates with any additional fields you may need. As you snap photos, they're automatically tagged to the area or equipment, saving you time when you're ready to create a report.
Audit Your Office Building's Energy Use With EMAT
At EMAT, we understand how frustrating it can be to use expensive, complicated energy auditing software that doesn't even do what you need it to. That's why we built our cloud-based app with you in mind. Simply use one of our pre-loaded templates, collect your data, and generate a report. Contact us today!