Energy auditing the old way…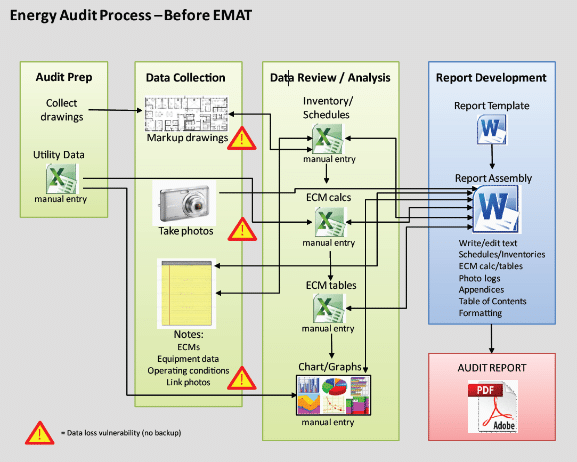 Many energy auditors and companies still do audits the old way, and it's not pretty.
Chaotic, inefficient
Resource intensive
Time consuming
Expensive
Inconsistent results
Data is spread out, decentralized, difficult to retrieve and access
EMAT – the future of energy auditing

Ahh, that's better.  This is what energy audits look like with the new EMAT.
Simple, straightforward
Less chaotic, less stressful
Less resource intensive
Efficient (50-70% efficiency increase)
Saves time and money
Consistent audit methodology and quality
Centralized, real time data access and retrieval
Flexible – customize EMAT software to conduct any kind of audit
Supported by team of qualified, experienced energy auditors
Runs on any device; no need to buy more hardware
Next generation audit software – EMAT 2.0
EMAT 1.0 was a major step forward in audit software capability. But our users talked, and we listened. The EMAT team is now building EMAT 2.0 – a suite of energy audit software products that provide advanced capabilities and most importantly, will meet you right where you are. You can start with the product(s) that work for you right now, and expand as your business and needs do. The EMAT 2.0 next generation software suite consists of three tightly integrated products.

The absolute best audit data collection tool available.
More Info

Perfect for professionals and companies that focus on lighting projects (coming 2019).
More Info

Builds your audit report as you collect data; data analysis, ECMs, photo logs, equipment schedules, all of it. (Coming 2019, EMAT 1.0 available for those that need this functionality now).
More Info
Ready to jump into the future of energy auditing? Let's do this.